EASE Master Class Beijing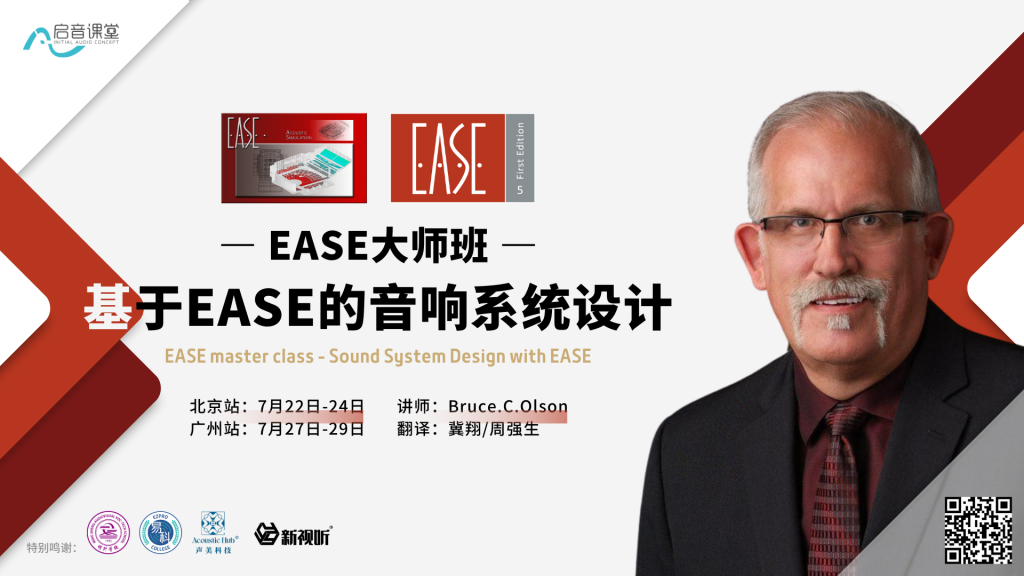 Class Provider: Initial Audio Concept
Date: July 22-24, 2023
Time: 9:00-17:30
Location:No. 45 East, Beiluoying, Wangsiying Town, Chaoyang District, Beijing, China
Instructor(s): Bruce C.Olson
Language: English (Translated into Chinese)
Interpreter: Dr Ji Xiang
Format: On-site
Timezone: +8 (UTC)
The intense 3 days EASE Master Class will mainly focus on EASE 4 including advance topics on AURA and EARS modules, while giving an introduction to the new EASE 5-FE to help EASE users to learn the advantage of the new tools and workflows.
A full feature evaluation software license will be provided so participants can explore the software fully, even if they own a simpler version, or don't own the software yet.
EASE master class 3-day training: 10,000 RMB, (1410 USD)
Including:
Training services and facilities
EASE trial version with one month validity, both EASE 4.4 and EASE 5-FE
Lunch for the training days
Attendees are to arrange their own travel, accommodation and other main meals.
Special offer on training fee
EASE users will get a 10 % off special offer for the training fee.
Those who had bought EASE through IAC, the organizer, will get 20% off special offer for the training fee.
Special offer on EASE software
Only for participants of EASE master classes, a 15% off special offer for EASE software will be granted from the day of his/her registration to Aug 29, 2023, one month after the classes' closing.
More about the Instructor
Bruce Olson is the founding member of Olson Sound Design LLC. Prior to this, heworked for 13 years in systems design, installation, testing, and project management for AVC Systems, a systems contractor in Minneapolis, MN.
After over 20 years of involvement with the Ahnert Feistel Media Group (AFMG) of Berlin, Germany and exceptional expertise in AFMG software he founded AFMG Services North America, LLC in 2014 to support clients in North America. In cooperation with AFMG he provides assistance with customer support for the EASE/AURA/EARS design software and the EASERA/SysTune measurement software. Mr. Olson provides advanced training worldwide for manufacturers, acoustical consultants, and audio contractors for EASE, EASE Evac, SysTune, and EASERA.
As the President of the Audio Engineering Society, Chairman of the AES Standards Committee (AESSC), and having served as the Chairman of the AES Working Group on Grounding and EMC Practices (SC-05-05), Vice-Chairman of the AES Technical Committee for EMC (AESTC-EMC), Governor of the AES, President of his local Acoustical Society of America (ASA) chapter, Chairman of his local AES chapter, and member of various other AES, IEC, and SMPTE standards groups, Bruce is actively involved in the latest technology in audio and acoustics. Mr. Olson continues as an active musician and is a member of the Ria Saxophone Quintet and the Bend in the River Big Band. He is a Life Fellow of the AES and the ASA and a member of AES, ASA, IEEE, SMPTE, Syn-Aud-Con, and has been an invited speaker for sessions, workshops, classes, and seminars for the AES, AIA, ASA, InfoComm, NAMM, NSCA, Syn-Aud-Con, and USITT.